Here is our proposal of Smartwatches Banking for every bank which plans to implement sort of internet banking running on new device - smartwatches. It can be Apple Watch or some Android device running on Android Wear. We will introduce several useful financial functions for smartwatches.
Balance on your account
The first of all what you need to know is how much money you have on your banking account. Any time, you are curious what the status of balance on your account is, you just quickly have a look at your watches and get the answer. There is no need to authenticate yourself. Smartwatches are connected to you smart phone and communicate securely only with this smartphone. And smartphone has permanent secure token, which allows smartphone to connect to bank systems and to ask for actual data about your account.
Balance itself is not enough. You would need to know your available balance, amount of money you can really spent. Your future payments and created holds from transactions in past decrease your real available balance.
Example: Let's say that we have currently 320 859 Czech crowns on our account. Yesterday we withdrew 5 000 crowns from ATM machine, hold is created in the bank and is waiting for processing. Week ago I created future payment on 1 407 crowns, which must be payed tomorrow. That all means, that my available balance is 314 452 crowns.
How much money may I spend this week?
We use money for buying and paying for some things. Due to security reasons there are limits for every financial transaction you do on your account. And there are several limits, not just one. The most important limits for your daily finances are:
Limit on amount of money you can withdraw every week (or day) from ATM. If you need bigger amount of money in cash and you cannot visit branch from any reason, you need to plan and count carefully, how much money you can get from ATM.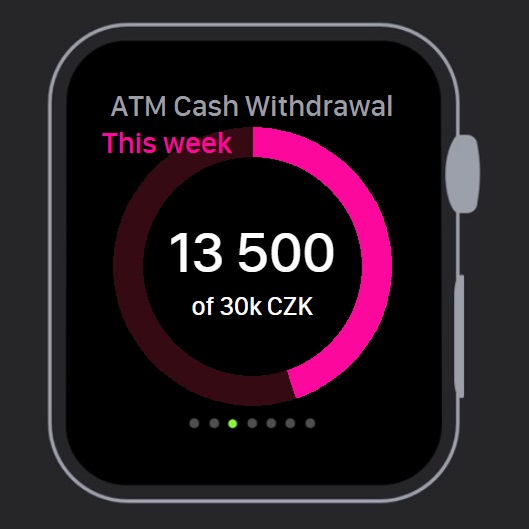 Limit on payments in shops. Usually weekly limit, how much money you can spend on shopping and paying through POS terminal in shops. This is useful mostly for shopaholics. May I buy this brand new trousers? Are there enough money on my credit card?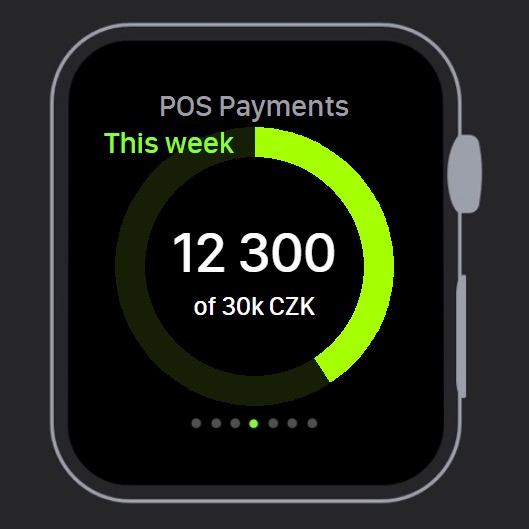 Limit on internet payments. Paying on internet is more and more popular. Information, how much money you can use on internet payments, is more than welcome.
Of course, we need to know exact figures, what amount I can withdraw from ATM, how much I can spend in shops, how much I can pay on internet…
The most recent financial movements on my account
To have control of your financial situation, you need to have knowledge about your previous financial movements on your account, anytime, anywhere, sorted from the most recent one to older ones. Let's have a list of several last movements on your account also on your smartwatches.
If you are waiting for some incoming payment, if you want to be sure, that your payment set in past has been already processed, in these cases this screen will help you.
It is good, if credit payments and debit payments are visually distinguished. In our example, incoming payments are green (they increase your balance) and outgoing payments are red (they decrease your balance).
As you can see, all financial transactions have only few parameters: amount, short description and date. There is no information about counterparty's account. It is just from security reason. If you are more risk tolerant, you can add this information to the list of financial movements.
My future/planned payments
Your future payments have impact on your future balance. It is good to have overview about your outgoing payments and how much money will stay on your account for some other spending. All transactions are marked red, because they will decrease you balance.
Notifications
One option how to use smartwatches is to have a look on them when you need to get some information (what time it is, how much money I have…). The other option is, that smartwatches will notify you about some event. Useful financial events are:
Incoming payment. Anytime, money will come to your account, smartwatches will let you know about that.
Outgoing payment. Anytime, when you planned financial movement is proceed, it may be useful to know about that.
Technical information. If there is outage in electronic banking or some bank's service will not be available, smartwatches will let you know.
Commercial information. If client agrees, bank may send commercial offers to client: about new financial product or service, special rate.
What are YOU expecting from smartwatches related to financial services?